Cooper's Cross provided the father and son combination of Stuart and Sam Coltherd with the biggest wins of their career in the £100,000 Sky Bet Chase at Doncaster.
The eight-year-old was only rerouted to Town Moor after Haydock's Peter Marsh Chase last week was lost to frost and the Coltherds were left thanking the weather gods for once.
Based at Selkirk on the Scottish Borders, it completed a good day for northern jumping with the first two home in the Cotswold Chase at Cheltenham, Ahoy Senor and Sounds Russian, as well as Tommy's Oscar and Maximilian at Doncaster all being trained in the either in the north of England or Scotland.
Cooper's Cross has been progressing steadily of late, but needed to prove his stamina over three miles.
Sam Coltherd's biggest problem was not getting to the front too soon, so well was he travelling.
When Tea For Free fell two out when still in there pitching, and Ga Law crashed out at the last, Cooper's Cross (16-1) needed to be driven out to beat Cap Du Nord, placed in the race for a third time, by a length.
Stuart Coltherd said: "The top weight (Dusart) came out at final declarations otherwise Sam wouldn't have been able to ride. It meant he crept in off bottom weight.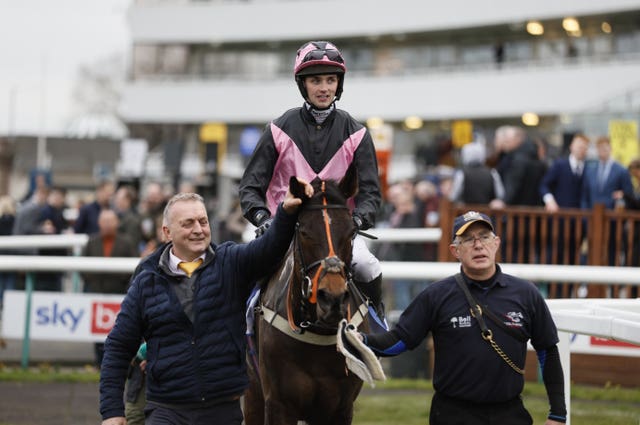 "He's always shown us the pace to travel at home but we've hoped the step up in trip would do the job, we always thought there was a big one in him.
"Knowing the horse and knowing Sam, I could see he was taking him back and it was whether he stayed three miles.
"He was meant to be in the Peter Marsh at Haydock last week so it's a good job that was off!
"We had Captain Redbeard two or three years ago who was a good horse, we've got about 30 in training, you can only go with what you've got."
He went on: "He's come back with a cut but I don't think it's anything to worry about, it's just a wee nick.
"I don't know what next, he'd struggle to get in the National. There'll be something at Ayr for him.
"This is our biggest win by a long way. I've been raining 20-odd years but since Sam turned professional we've tried to have a few more for him and got our heads down.
"For Sam to ride him as well, it means everything."
Regarding fallen horses and jockeys, clerk of the course Paul Barker said: "Tea For Three was taken back in the horse ambulance but is fine.
"Lilly Pinchin has been taken to Doncaster Royal Infirmary for further examination on a suspected broken left clavicle (collar bone).
"The other jockeys are OK but stood themselves down."