Hukum overcame his own lengthy absence to deny last year's Derby winner Desert Crown in the Racehorse Lotto Brigadier Gerard Stakes at Sandown.
Trained by Owen Burrows, Hukum is now six and his career looked over after he picked up what looked a career-ending injury in winning the Coronation Cup 12 months ago.
The decision was taken to keep him in training and that now looks inspired, as Jim Crowley – who briefly looked boxed in – got Hukum flying late on to win by half a length in an enthralling battle up the Sandown hill.
Desert Crown had been kept off the track by his own injury – for 355 days to Hukum's 356 – after his famous Epsom success on what was just his third ever outing.
Following his tried and tested route with his top-class older horses, Sir Michael Stoute was looking for a 12th win in the race and connections were happy going into the Group Three feature.
Settled in fifth by Richard Kingscote as stablemate and pacemaker Solid Stone led at a steady gallop, he was set something of a test but breezed into the lead a furlong out only to be reeled in late on by the 5-1 winner.
While Stoute will no doubt be left scratching his head his former assistant Burrows will be dreaming of a big summer.
Betfair cut Hukum – who is a full-brother to the brilliant Baaeed – to 14-1 from 25s for the Prix de l'Arc de Triomphe with Desert Crown now the same price from 8s.
Burrows said: "He feels a bit quicker this year and he must have developed a bit of speed from somewhere.
"He needed a couple of gallops last week because he is so well that I didn't want him to become too fresh.
"It has worked out brilliantly. This was a prep run for the Hardwicke (at Royal Ascot), but it is vital he does have good ground, the fast side of good, we'd have to have a think.
"I've always said he's not a slow horse. He's win over a mile and six, he's always shown speed at home, but until you see it on the track.
"We will have to have a bit of a rethink maybe. I don't see the plans changing too much.
"We were only a pound behind him (Desert Crown) on ratings."
Reflecting further, he said: "Plenty have come back from an injury like his, but he was a five-year-old that had just won a Group One and I didn't think it would be in the realms that he could come back. Sheikha Hissa very sportingly said if his rehab goes well we will send him back to you.
"To get a Group win over a mile and a quarter adds to his CV as he probably got pigeon-holed a bit as a slow horse. As Jim mentioned, it is vitally important there is nice good safe ground and credit to Andrew (Cooper, clerk of the course, he has produced that for us today.
"It was important to get a run into him today as there are not a lot of options left before Royal Ascot and as I touched on he has been so well and full of it. He is not a hooligan, but he is so bullish. He was ready to go and it was important to get that run into him.
"He was my first Royal Ascot winner. He went to Dubai and won on Super Saturday which was massive for us. He was my first Group One winner. I will find it hard to replace him when the time comes when he does head off to stud. He has been a star for the whole team and is an absolute legend."
An impressed Crowley said: "I've been riding him work at home and said to Richard (Hills) and Owen, that's the best he's ever been. To say that about a six-year-old, who had been showing a bit of speed at home, who, don't forget, had won over a mile and six and a mile and a half, that was a very good performance tonight.
"We thought he was finished. Owen has brought him back, it is a hell of a training performance and everyone at Shadwell has done well to get him back. He is just a proper horse and hopefully he can add to his Group One tally.
"To beat a Derby winner, who got first run on me, it was a mile and quarter, things were not really in our favour, but I think when he goes back to a mile and half, he will be as good, if not better. It was nice to see him win like that.
"I'd love to see him in a King George in the summer, a wet King George, as I think that would be his thing. It is nice to get him back."
"It is amazing. When he gets that toe in a bit, he's a machine."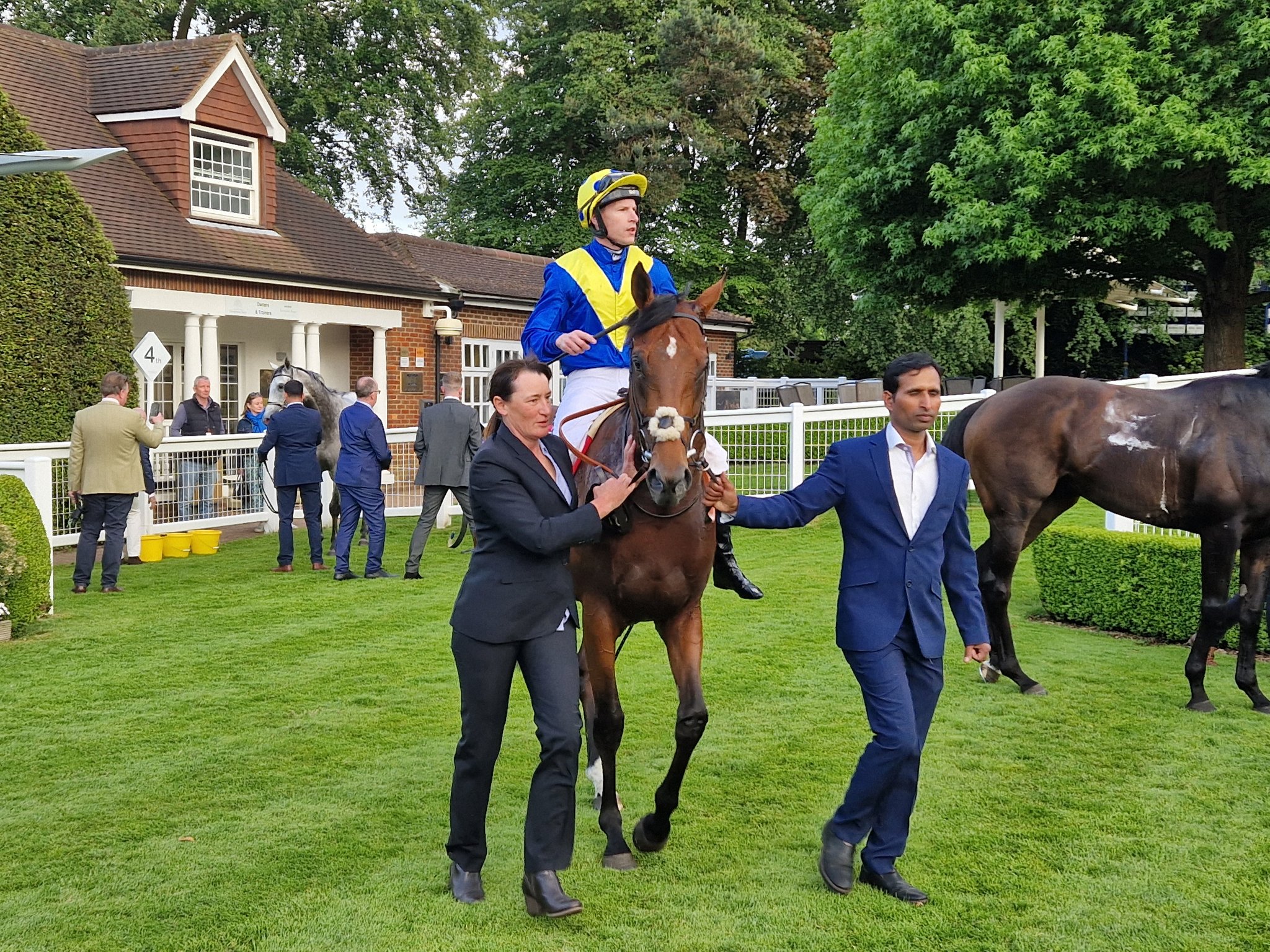 Meanwhile, Stoute said of Desert Crown: "He is a little ring-rusty. He looked like he had his race won and then he just tied up in the closing stages. He has been a year off – it has been a long time."
Pointed out that the winner had also had a year off, he responded: "Has he? Well, he's run better than me."
Asked if he was still on course for the King George, he added: "I don't know. It will be the two races he's in (King George and Prince of Wales's Stakes) – I'm not going to make any decisions now."
Bruce Raymond, racing manager for Desert Crown's owner Saeed Suhail, said: "I think he did everything right. It is not for me to say, but I thought he was fitter than that. It has been a long time since he ran, as it was with the winner. He probably needed it, because he's had a good blow.
"He was smooth and I felt he did everything right. Obviously he didn't know the winner was stuck in behind, but I felt he did everything right.
"Obviously he is going to improve."
Kingscote told Racing TV: "He was great, he moved well, in a nice rhythm, he moved up well and picked up well.
"He did everything perfectly, but a good horse came and ran him down.
"Before today they both proved they were very good horses and both had been off all but a year.
"It was a very good run, I'd have liked to have won but I'm very happy, he'll come forward from it.
"Critics will say I was there too early, I probably would myself but the winner didn't have a smooth passage and still came and got us.
"He looked very fit the other horse and well done to connections."